&nbsp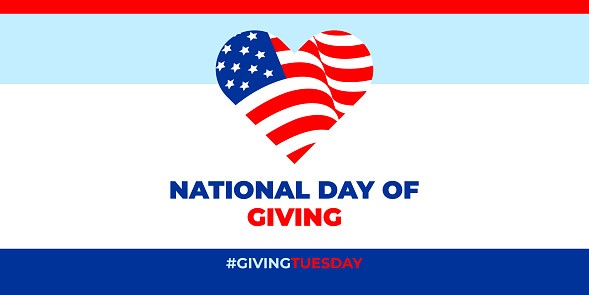 Give of your hearts rich overflow
Thank you for supporting our year end goal of $120,000
Giving Tuesday
"GivingTuesday is a Movement that Unleashes the Power of Radical Generosity Around the World. GivingTuesday reimagines a world built upon shared humanity and generosity. Our global network collaborates year-round to inspire generosity around the world, with a common mission to build a world where generosity is part of everyday life. Whether it' making someone smile, helping a neighbor or stranger out, showing up for an issue or people we care about, or giving some of what we have to those who need our help, every act of generosity counts, and everyone has something to give" so states the GivingTuesday website.
Jesus encouraged his disciples to give (be of service to others) without thought, Mary Baker Eddy reminded us that "giving does not impoverished us in the service of our Maker" (SH 79:31), and Hymn 139 encourages us to "walk with Love" and give of our heart's rich overflow."
Giving to a worthy cause brings blessings to the giver and the receiver. Thank you for supporting Clearview Home for over 70 years and blessing so many that come here for healing.
Inspiration from our study this year

We love to start our Finance Committee meetings with inspiration to lay a solid spiritual foundation for our stewardship of Clearview Home's resources.
Commit thy way unto the Lord; trust also in him; and he shall bring it to pass (Ps. 37:5)
Deut. 28:1-12 talks about the blessings that come about through listening and doing the will of God.
Blessings shall overtake thee
Blessed be thy basket and thy store
Blessed shalt thou be coming and going
The Lord will make thee plenteous in goods, fruit of the ground
The Lord shall open unto thee his good treasure
Other inspiration shared at our Finance Committee meetings:
God's infinite storehouse of all good is open to everyone
There is more than enough for each and everyone of God's children
We do not rob our neighbor of anything nor does our neighbor rob or limit us in any way.
Supply is infinite for each and everyone, everyone is invited, everyone can enter, everyone is urged by Love to come to the feast of all good.
Stewardship & Sustainability
As a non-profit organization Clearview Home offers plenty of giving opportunities. I would like to share how we have demonstrated stewardship over our funds this year. Many of us have experienced the highs and lows of the stock market, and Clearview is no exception. We've seen incredible gains in our investments over the last few years and disappointing lows in the last few months. Our stand is to maintain a spiritual view of supply and sustenance. Recognizing the spiritual law of gratitude, generosity of spirit, and benevolence.
Many blessings and more stability to our financial situation came when Clearview pulled out of the Medicare program. The National Fund for Christian Science Nursing has filled some of the gap and we have been able to bless more individuals for longer periods of time than the 60-day threshold Medicare allowed.
This year we have strived to take a more thoughtful approach to benevolence. We started by raising our rates closer to the actual cost of care. In 2020 our daily rate was $350 then in 2021 we raised our daily rate to $650 and decided to automatically give $300 a day benevolence. In 2022 we decided to keep the same daily rate of $650, but changed our benevolence program. We asked patients and families to think about contributing more toward the cost of their care before applying for benevolence. An extra $30 or more is a first step towards showing appreciation for the Christian Science nursing care they are receiving. This change blessed the individuals with quicker healing and allows Clearview to bless others even more. We earmarked up to $315,000 this year for benevolence. So far, at the end of October only $166,000 was needed. We rejoice in everyone's individual demonstration of supply and how it is blessing others.
This year we started out with a possible $800K deficit in our budget, but through Wisdom's guidance we were led to make several changes. Some of the changes included staffing reductions, a more thoughtful benevolence program, and outsourcing some of the operational services. The budget also included hiring more Christian Science nurses. That staffing goal is still there but with the sharp decline in available Journal-listed Christian Science nurses, we have been unable to meet that goal. As we look toward the end of the year, we expect there to be a $480,000 deficit instead of $800,000 that we anticipated. That is a big step toward a more balanced financial picture. Each step forward toward a balanced budget should be acknowledged and rejoiced over.
On the other side of the coin are donations to help meet the $480,000 gap. We are very grateful that donations this year have totaled over $360,000 at the end of September which puts us within $120,000 of our year-end goal to meet our expenses.
This is such good news!
Please help us to close the gap even more! Every donation gets us closer!
We are not stopping there. The Clearview Finance Committee has just spent several months looking at ways we can continue to be good stewards. We've recently finished approval of the 2023 budget and the deficit is closer to $360,000. We have earmarked about $200,000 for benevolence next year.